Dunstan Thomas discuss the 'Flexibility Opportunity of SIPPs', live on Crowdcast
13 Jul 2021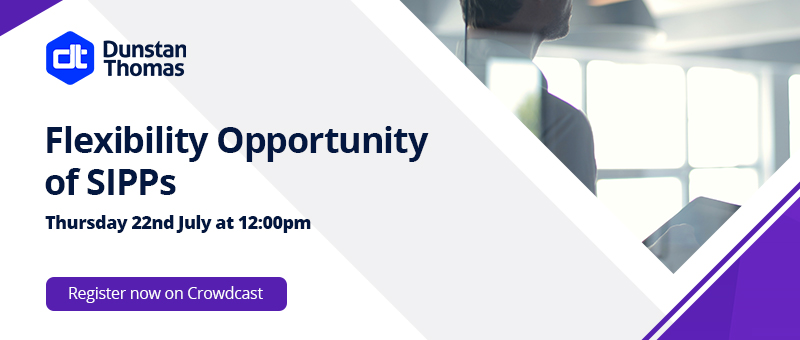 The UK SIPP market has continued to attract an average of approximately £2bn of new business annual premium equivalent each year since pension Freedoms went live in April 2015. According to the FCA, £20.8bn was transferred out of DB plans into DC plans in 2017 alone, and close to 99% of that money goes into SIPPs as, according to XPS Pensions Group, nearly all DB transfer monies go into SIPPs today.

And the SIPP market remains in rude health despite the pandemic. A good deal of SIPPs' enduring appeal is the flexibility they offer in terms of access to a wide range of investments and decumulation options for those who have reached retirement.

Indeed, you could say SIPPs capture the very essence of those freedoms and it is this that makes them the ultimate premium DC plan during a period where the percentage of DC plans are rising inexorably as we witness the slow demise of DB plans within a generation.

This live webinar will focus on decision-making in the vital last few years of saving pre-retirement; as well as at retirement itself, and during the now lengthier in-retirement journey. The panel will address key considerations linked to optimising retirement income and limiting inheritance tax using SIPPsat the core of retirement saving and decumulation.

After initial opening remarks by all our panel of SIPP specialists, we will open up a panel discussion to answer your questions:
Jessica List, Pensions Technical Manager at Curtis Banks Group
Chris Jones, Principal at Rock Consultancy
Renny Biggins, Head of Retirement at TISA
Adrian Boulding, Director of Retirement Strategy, Dunstan Thomas
Sign Up Now for our next Live Webinar from 12-1PM on Thursday 22nd July to optimise retirement income and intergenerational wealth transfer when the time is right.
Sign up for the Webinar here