Dunstan Thomas Staff Volunteers at the LifeHouse Food Kitchen, Making a Difference in the Local Community
07 Jul 2023
Every Wednesday morning, LifeHouse, a free food kitchen, resource and support centre in Portsmouth, open their doors at 9am to serve a hot breakfast with tea, coffee, water and/or juice. This has made a huge difference to many people in the local area, with LifeHouse regularly welcoming 90+ people who may be homeless, rough sleepers, underhoused, or feeling disconnected, lonely, lacking friendship and support.

On Wednesday 5th July, Dunstan Thomas staff volunteered at LifeHouse. Each staff member played a crucial role, whether it involved serving hot beverages and breakfast or assisting the kitchen staff with food preparation and cleanup. Their support provided invaluable assistance to the regular LifeHouse team, allowing them to devote more time to engaging with the visitors, fostering longer and more meaningful interactions.
Comprehensive Services and Support at LifeHouse
LifeHouse is more than just a food kitchen. In addition to providing hot meals, it offers a range of vital resources for those in need. Visitors can access clothing, footwear, toiletries, and other essential items. Furthermore, LifeHouse provides free weekly counselling sessions on Thursday afternoons, ensuring that individuals receive comprehensive support beyond their immediate needs. In addition a hairdresser, podiatrist and street vet visit on a regular basis.
Dunstan Thomas' Commitment to Community Support
Dunstan Thomas have put greater focus into supporting local communities and charities in 2023, and supporting LifeHouse has been a key part of this. Recently, Dunstan Thomas held a bake sale to help raise money for a new carpet at LifeHouse – raising nearly £100 in the process. As part of our ongoing commitment, Dunstan Thomas marketing team are helping to redesign the LifeHouse website and marketing materials, alongside donations to the food bank.

Volunteering will be a regular fixture at Dunstan Thomas, with all staff now able to volunteer at LifeHouse and provide support if they wish. LifeHouse is an excellent cause and one that Dunstan Thomas are proud to support and assist.

As of October 2023, 30% of Dunstan Thomas staff have signed up to volunteer with Lifehouse - a wonderful indication of the generosity and care present in many at DT.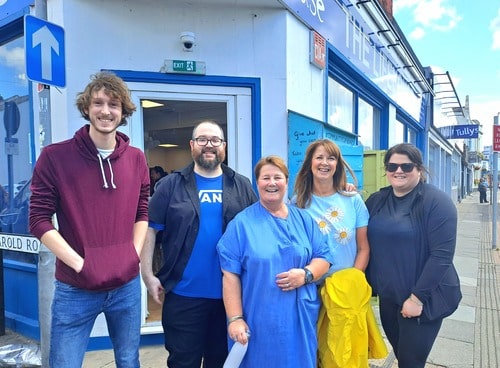 Dunstan Thomas Charity
Previous News Item
Dunstan Thomas Products
Contact Us